Doors can be left handed or right handed.
To determine the handing of a door, face the outside of the door as you are entering the room.
If the hinges are on the left, the door is left handed.
If the hinges are on the right, the door is right handed.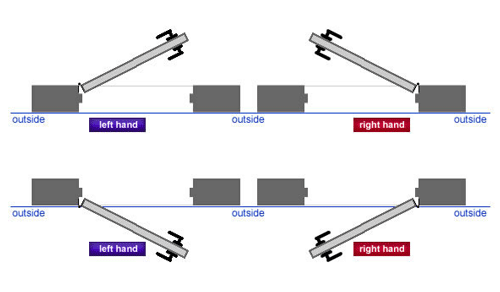 Classic Door Handles with a wave design are reversable. Look for a small hole in the side of the handle, near the face of the lockset. Insert the end of a key tool provided in the packaging or small flat-head screwdriver into the hole. Press in on the tool or screwdriver while pulling out on the handle. Slide the handle off the lockset until it butts up against the key.
For more info please refer to our YouTube video with instructions.

The door is usually held by magnets or with some mount on the top of the door.
Dummy lever mounts directly to the face of the door with screws provided.
that you generally get on standard duty door hinges. Ball bearing hinges are cleaner, heavier and smoother.
We offer 30-day money back guarantee.
This 30-day money back guarantee is a subject to the following simple conditions:
To qualify for refund the product should be received in the original packaging and in undamaged condition. Merchandise must be returned in unused, like-new condition.
Carriage costs are not refundable and return carriage is payable by the customer.
We will credit your payment card account within 1 week after the return is received.