Passage – for use on interior doors where a locking feature is not required (e.g. bedrooms or hallways).
Privacy – for use on interior doors where a privacy locking function is required (e.g. bathrooms).
Dummy – require no door prep. Dummy handles are surface-mounted (e.g. closets). Comes as set of 2 handles.
FINISH:   Black Matte/Satin Brass
Features:
Solid Zinc Construction
Push Button Lock for privacy function
Strengthened Springs Ensure that the Lever Stays Level Over Time
Includes Square Corner Strike
Includes all necessary operating parts and fastening hardware
Specifications:
Fits to standard door preparation
Door Thickness: 1 3/8″(35 mm) or 1 3/4″(44,5 mm)
Latch has square corner rectangular faceplate:  1″(25 mm) x 2 1/4″(57 mm)
Latch is non-adjustable – please choose a backset length at check-out
Bore Hole: 2 1/8″(54 mm)
Cross Bore: 1″(25 mm)
Grip Length: 4 1/2″ (115 mm)
The plate size: W: 2 1/2″ (65 mm) H: 5″ (127 mm)
Projection: 2 1/2″ (65 mm)
Weight: 2.31 lb. (1.05 kg)
Includes all required hardware for complete installation
What is the Backset?
The backset on a door is the distance from the edge of the door to the center of the borehole in the door.
Here is an example: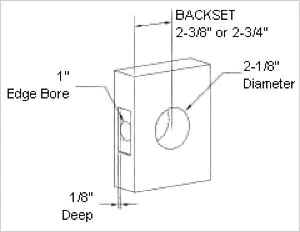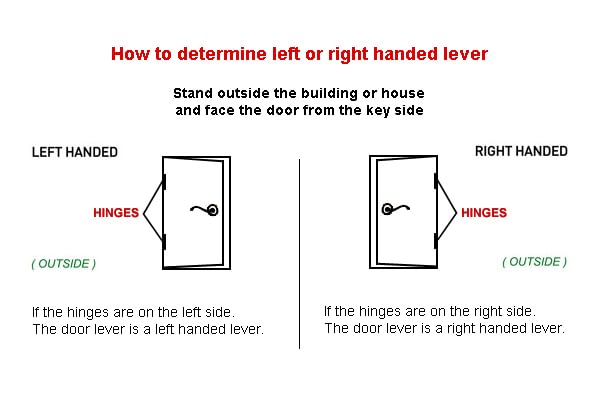 Stand OUTSIDE of your door. Notice where the hinges are.
If the hinges are on the LEFT, you will need a LEFT handed door handle.
If the hinges are on the RIGHT, you will need a RIGHT handed door handle.