Selecting Door and Cabinet Hardware is a new art form for homeowners. Hardware function and design selection should be customized for your home and individual needs.

1. Door hardware on existing doors
There are many factors and existing measurements to consider. The existing bore size, backsets, thru bolt measurements and functions must be addressed prior to your selection. Without careful consideration problems can arise.
2. Backset
The backset is the distance from the edge of the door to the center of the 2-1/8″ bore hole. There are two common backsets for residential door locks:                        2-3/8 inches and 2-3/4 inches. Pack your locks with a 2-3/8-inch or 2-3/4-inch latch, depending on which backset you specify. Dummy sets have no latch and are surface-mounted so you can install a dummy set wherever you choose on the door.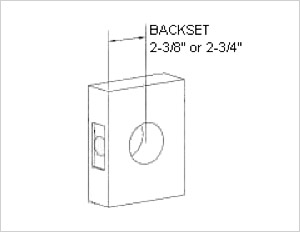 3. Determine what lock function you will need.
Non-keyed locks are often used on interior doors. A passage function can be used when you want the door to latch but not lock. Privacy locks don't use keys, they  are used in bathrooms and bedrooms. If you want to lock storage, bedroom, or office doors with a key choose a lock with an office or entry function.
4. Finishes
Door hardware is often the first thing that visitors touch and feel before entering your home and can set the tone for the rest of your home. RenovationOutlet offers door hardware in a variety of decorative finish choices that coordinate with other design elements in your home.
Gold Brass       Antique Brass    Satin Nickel     Oil Rubbed       Black