Saturn Modern Door Handle Lever Set with Push Button Lock and Emergency Egress
---
Description
Product Demonstration for Ultra Modern Door Handle
Passage – for use on interior doors where a locking feature is not required (e.g. bedrooms or hallways).
Privacy – for use on interior doors where a privacy locking function is required (e.g. bathrooms).
Dummy – for use on interior door where a pull/push function is required (e.g. closet). Comes as set of 2 dummy handles.
Keyed Privacy – for use on interior or exterior doors where strong privacy locking function is required (e.g. office). Can be opened outside only with a key.
Keyed Privacy available in 2 variations: Keyed to Differ  and Keyed Alike
'Keyed to Differ' is simply where each lock will come with its own key, one which cannot be used on any other locks.
'Keyed Alike' is where all locks within a set have the same key code, or in other words, one key can used to open multiple locks within the set.
Available Finish: Satin Nickel 
Features:
Features an adjustable latch to fit all standard door preparations.
Solid 316 Stainless Steel Construction
Handing: Reversible
Push Button Locking
Emergency Egress Function (Quick Release) for privacy lock
Strengthened Springs Ensure that the Lever Stays Level Over Time
Flush Head Mounting Screws
Includes Square Corner Strike plate
Specifications:
Fits standard door preps
Door Thickness: 1-3/8″ or 1-3/4″
Latch has square corner rectangular faceplate:  1″ x 2-1/4″
Latch is adjustable to 2-3/8″(60 mm) or 2-3/4″(70 mm)
Cross Bore: 2-1/8″
Edge Bore: 1″
Handing: Reversible
Grip Length: 5″ (127 mm)
The round rosette diameter: 2-3/4″ (70 mm)
Projection: 2-3/4″ (57 mm)
Weight: 1.98 lb (900 g)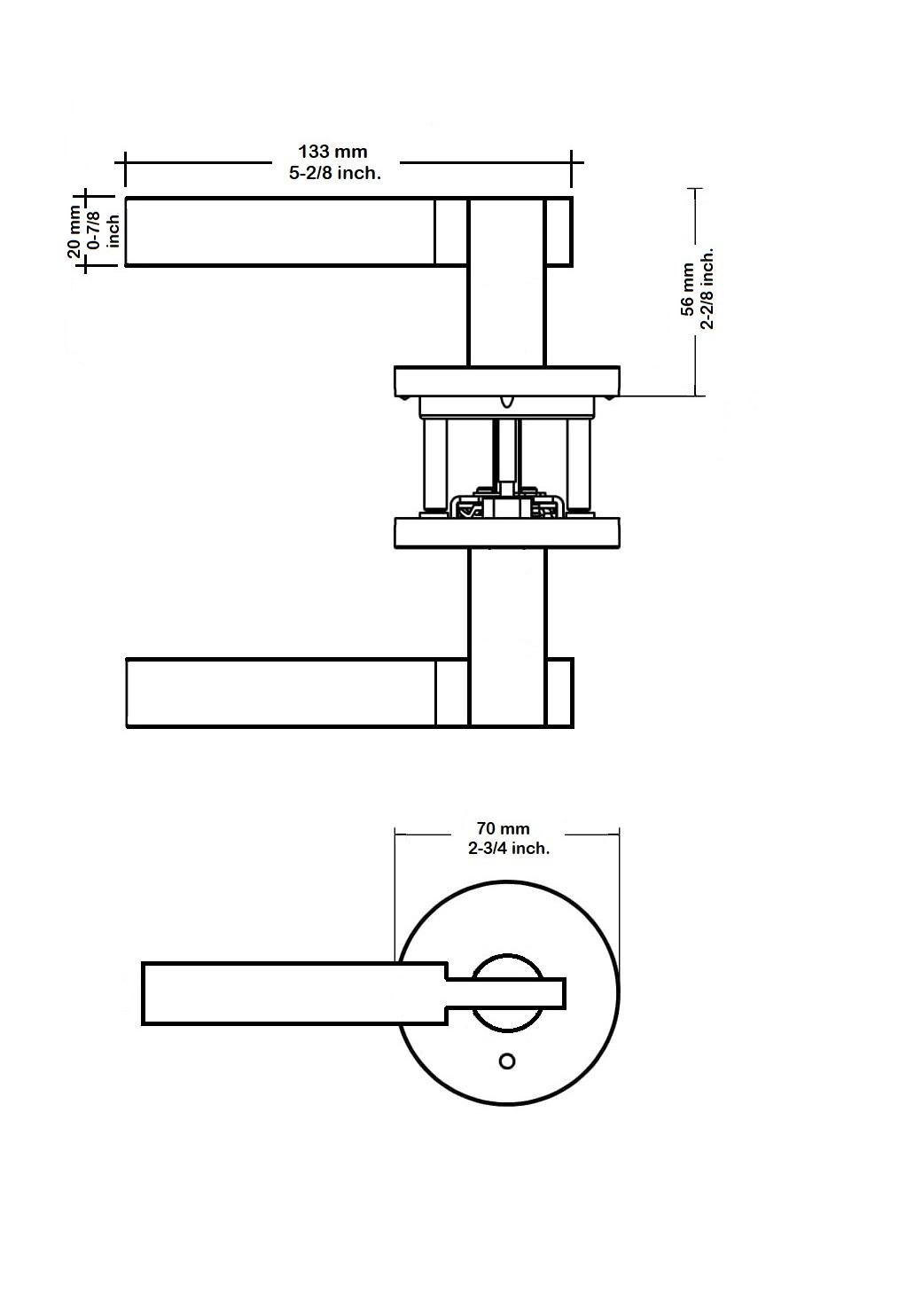 Featured Technologies:
Privacy Function: The latch bolt can be locked by pushing the button on the inside lever. An emergency release tool can unlock the door from the outside. This function is ideal for bathroom or bedroom doors where privacy is desired but a keyed cylinder isn't necessary.
Emergency Egress Function: Allows you to simply turn the lever to exit the room, without having to stop to unlock it.
---